Home
»
Other Treatments
» Karna Poorana Therapy
Karna Purana Therapy
Ayurveda has a complete solution for human physical diseases and problems. Therapies have amazing healing power and provide effective treatment that ensures a quick and permanent solution. Air and wind have a direct impact on the ear and noise pollution cause severe stress on ears. This makes people uneasiness and even loss to hear.
Karna Purana is 100% Ayurvedic process that treats all ear ailments. In the treatment, medicated oil or ghee is administered into the ear cavity of a patient. This therapy is highly suitable for outer ear, inner ear and eardrum area. The medicated oil used in the therapy nourishes the internal part of the ear and leads to improvement in the quality of hearing. With this, it is an effective treatment that is opted for handling cases of Vata imbalances that is related to hearing.
Diseases Covered
Karna Purana Therapy is beneficial for all types of hearing problems. It improves hearing, prevents ear diseases, relieves ear pain and provides strength to ear bones and surrounding structures. This treatment also benefits to handle ear infection and provide relief to hearing loss, ear infection, blockage, migraines, anxiety, depression, nervous weakness, etc.
Our Procedure
Karna Poorana treatment has a simple process that is followed by a head massage to the patient. This helps to open any blockage in the head and forehead region. In the next step, the medicated oil is poured into the ears of a patient. After this, the patient is given a light massage on the outer ear region. The therapy is carried out for about 2 hours where the drops of oil depending on the condition of the patient. The process is required for a week and provides desired and effective results to patients. After this, steam bath is given to the upper part of the body that includes the neck, face and head.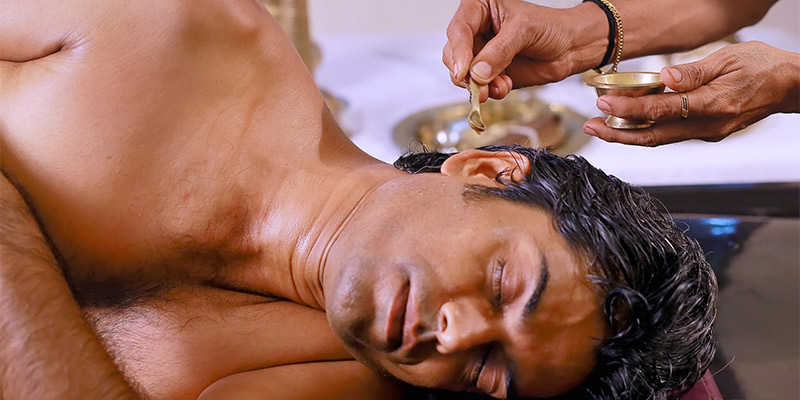 How different from others
We provide Karna Purana Therapy under the guidance of a trained professional therapist. The ear condition of the patient is diagnosed by the ayurvedic practitioner. This helps to provide effective treatment to each patient based on the medical health of the ear. We know that ears are very sensitive and have complex filaments. So we never compromise on the quality of the treatment and entire process is carried out with utmost care. We use different medicated oils such as Nirgundi oil, Bilva oil, Kshara oil, Badhiriya Nashak oil and Karna Bindu oil based on the need and benefits to different ears.